The Portland Trail Blazers produced a dominant 20-4 fourth-quarter run to beat the Golden State Warriors 129-107, snapping the NBA champions' five-game winning streak.
Wednesday night's scores
Golden State Warriors 107-129 Portland Trail Blazers
Houston Rockets 111-121 Minnesota Timberwolves
Milwaukee Bucks 106-97 Indiana Pacers
Detroit Pistons 110-118 Boston Celtics
Philadelphia 76ers 126-111 New York Knicks
Sacramento Kings 118-120 Denver Nuggets
Brooklyn Nets 148-139 Cleveland Cavaliers (3OT)
Washington Wizards 120-129 Toronto Raptors
Phoenix Suns 107-134 Los Angeles Clippers
Memphis Grizzlies 110-122 Chicago Bulls
Miami Heat 112-101 Dallas Mavericks
Golden State 107-129 Portland Trail Blazers
Damian Lillard scored 29 points as the Portland Trail Blazers used a late 16-0 run to blow away the visiting Golden State Warriors 129-107 on Wednesday night.
Jake Layman added 17 points off the bench as eight players scored in double figures for the Trail Blazers, who snapped Golden State's five-game win streak.
Kevin Durant and Stephen Curry each scored 32 points for the Warriors, who had won 15 of their previous 16 contests.
Portland carried a 64-61 edge into half-time and extended their advantage to 81-75, but the Warriors used an 18-7 run to go ahead 93-88. Portland responded with six straight points before Golden answered to take a 95-94 heading into the final period.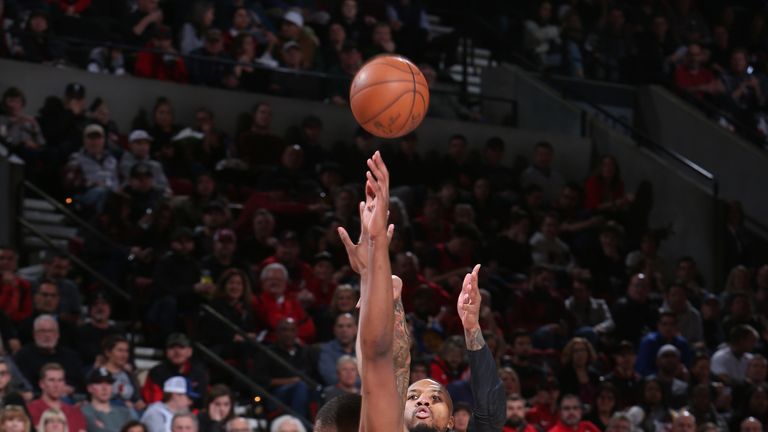 Layman scored three straight baskets to push Portland in front 104-101 with 8:25 remaining. The Blazers scored the next six points – two on baskets by Seth Curry – to up the lead to 110-101 with six minutes to play.
Jonas Jerebko's tip-in cut it to 110-103 before the bottom fell out for the Warriors with 3:54 to go.
Draymond Green was called for a flagrant foul on Portland's Zach Collins. Warriors coach Steve Kerr slammed his clipboard to the court in protest and was given a technical foul. When he vehemently protested, he got another one and was ejected. Then Green picked up a technical.
When the smoke had cleared, the Blazers' lead was 126-103 with 1:45 to play and the game was over.
Houston Rockets 111-121 Minnesota Timberwolves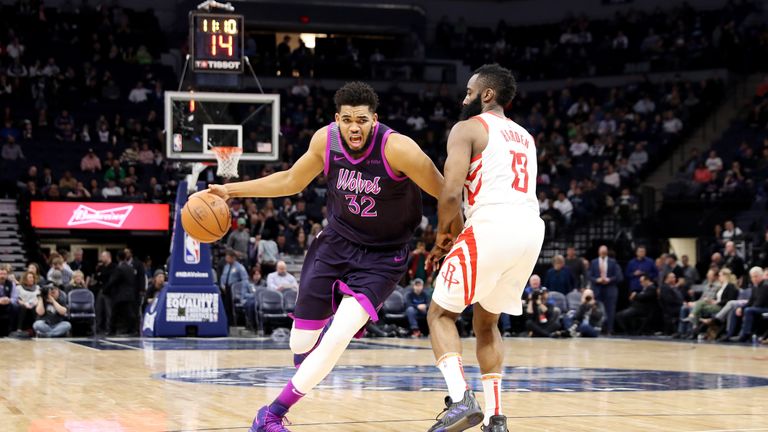 Jeff Teague produced a double-double while Karl-Anthony Towns led a dominant performance in the paint by the Minnesota Timberwolves, who used a balanced scoring attack to thwart James Harden and the Houston Rockets 121-111 in Minneapolis.
Rookie guard Josh Okogie provided a spark with 16 points and played energetic defense on Harden, but Harden still extended his streak of 30-point games to 31 with 42 points, matching Wilt Chamberlain for the second-longest streak in NBA history. Harden has recorded 22 40-point games this season.
Teague paced seven Timberwolves in double figures with 27 points and added a game-high 12 assists while Towns paired 25 points with a team-best nine rebounds. Dario Saric, Luol Deng and Taj Gibson recorded eight rebounds each as Minnesota posted a plus-10 rebounding advantage while also outscoring Houston 70-36 in the paint.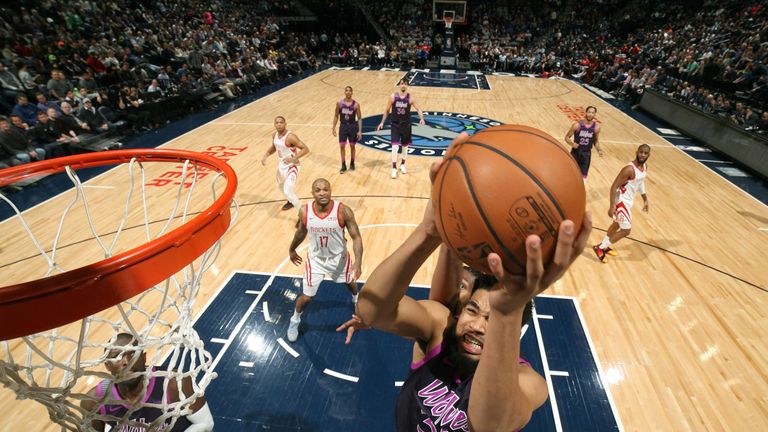 Chris Paul added 16 points and eight assists for Houston while Kenneth Faried chipped in a double-double of 12 points and 11 rebounds.
The Rockets led 65-56 on two Faried free throws at the 10:18 mark of the third quarter before the Timberwolves mounted the first of their two significant runs in the period. Minnesota pulled even with a 9-0 surge and later added a 12-0 burst to seize the lead.
Okogie was crucial during the latter run, producing a steal and block, both against Harden, while also converting a transition dunk and a three-pointer that pushed Minnesota to a 77-74 lead.
Milwaukee Bucks 106-97 Indiana Pacers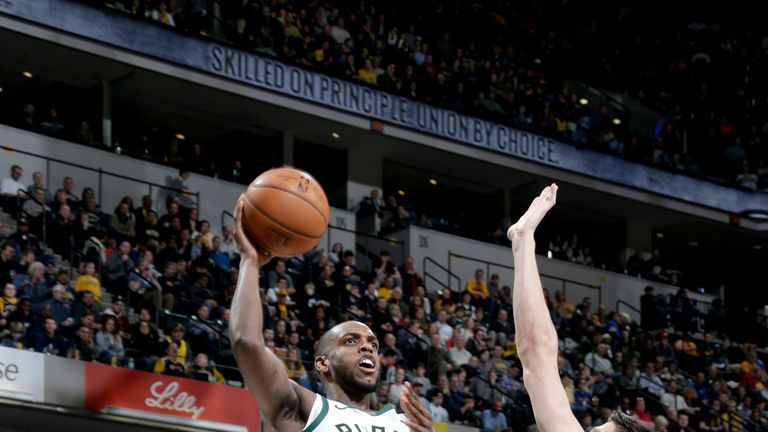 Giannis Antetokounmpo produced 33 points, 19 rebounds and 11 assists for his fifth triple-double of the season as the Milwaukee Bucks rallied for a 106-97 victory over the Indiana Pacers in Indianapolis.
Malcolm Brogdon scored 17 points and Khris Middleton added 15 as Milwaukee won for the 14th time in their past 16 games. George Hill had 12 points and Ersan Ilyasova tallied 11 for the Bucks, who own the best record (43-14) in the NBA heading into the All-Star break.
Bojan Bogdanovic scored 20 points for the Pacers, who had a six-game winning streak halted. Domantas Sabonis recorded 14 points and nine rebounds, Darren Collison had 14 points and seven assists, Myles Turner scored 11 points and Tyreke Evans had 10.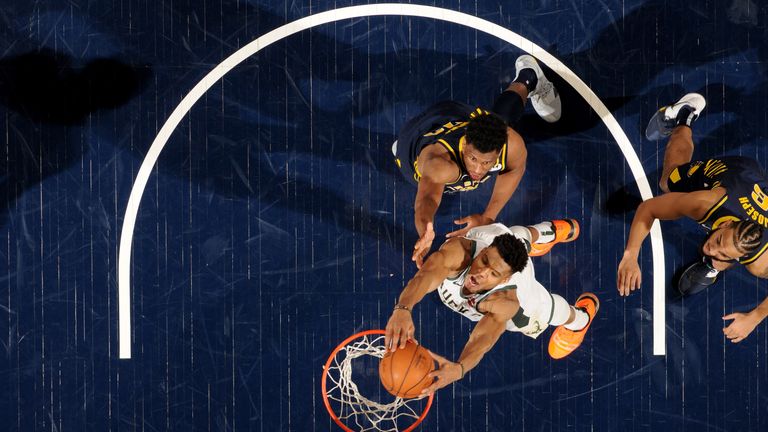 Milwaukee recovered from a 10-point, fourth-quarter deficit en route to posting their seventh straight road win.
The Bucks moved ahead at 97-95 when Antetokounmpo recorded his 10th assist by feeding a wide-open Ilyasova for a lay-up with 2:36 left. Middleton followed with a three-pointer and Antetokounmpo hit four straight free throws to make it 104-95 with 54.6 seconds left as Milwaukee closed it out.
Detroit Pistons 110-118 Boston Celtics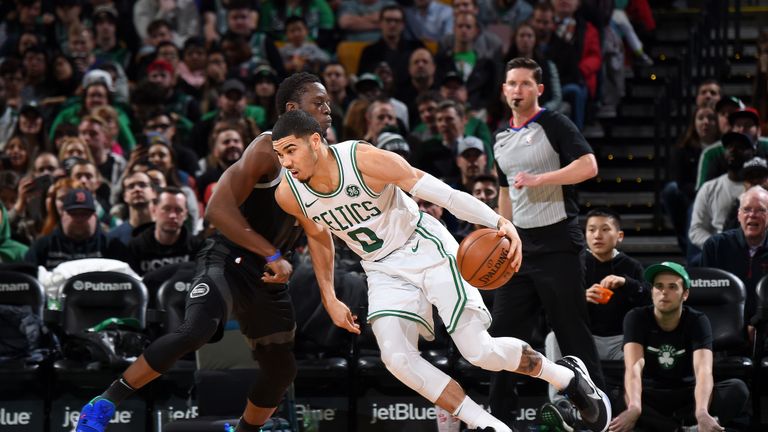 Jayson Tatum led six Boston players in double figures with 19 points as the host Celtics ended the Detroit Pistons' four-game winning streak with a 118-110 victory.
Gordon Hayward contributed 18 points and eight assists, while Al Horford supplied 17 points, 14 rebounds and eight assists.
All-Star Kyrie Irving sat out for the second consecutive night with a right knee strain.
Blake Griffin led Detroit with 32 points, eight rebounds and five assists while Andre Drummond had 21 points, 17 rebounds and four steals.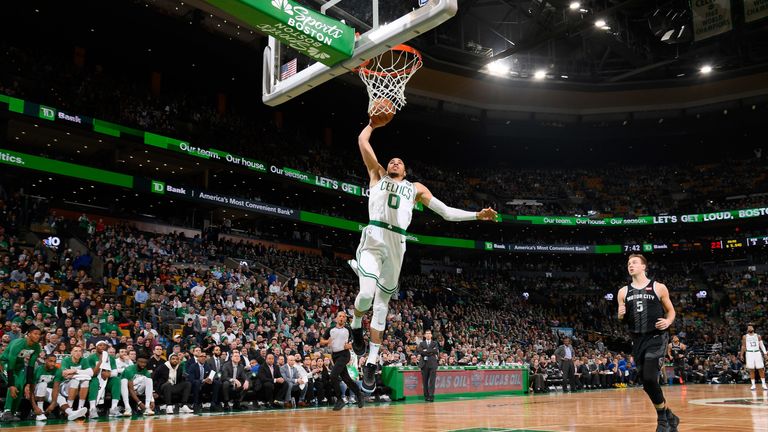 Tatum fired in a long shot in the final minute of the quarter to make it 89-69 but the Pistons didn't go quietly. They reeled off a 20-2 run, capped by a Drummond steal and dunk, to cut Boston's lead to 10. Horford made a three to end that outburst.
Detroit couldn't get the deficit into single digits until the final two minutes.
Philadelphia 76ers 126-111 New York Knicks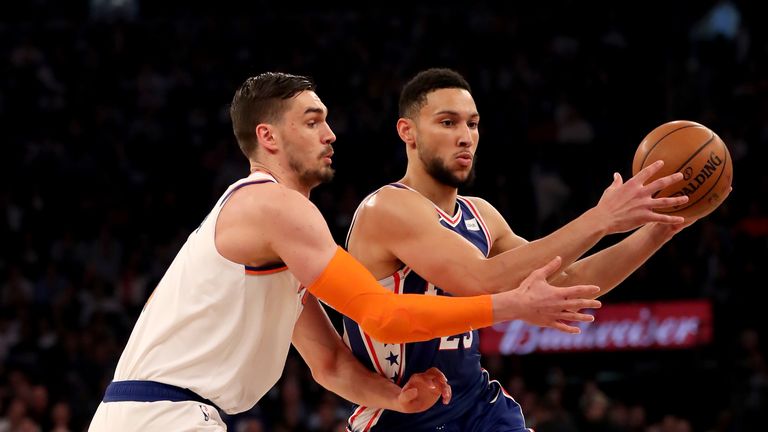 The Knicks erased much of a 26-point third-quarter deficit but could not complete the comeback against the visiting Philadelphia 76ers, who extended New York's single-season losing streak with a 126-111 reverse.
The Knicks have lost 18 straight, two shy of the franchise's all-time record, a 20-game streak that spanned the 1984-84 and 1985-86 seasons.
Joel Embiid led Philadelphia with 26 points and 14 rebounds. Tobias Harris scored 25 points, his top total in four games since being acquired by the 76ers on February 6. Fellow starters Ben Simmons (18 points), JJ Redick (15 points) and Jimmy Butler (13 points) scored in double figures.
Allonzo Trier scored 19 points to lead an impressive performance by Knicks reserves, who accounted for 74 points. Mitchell Robinson scored 14 points, pulled down 13 rebounds and recorded four blocks while fellow bench players Damyean Dotson (16 points) and Kadeem Allen (13 points) also got into double figures.
Dennis Smith Jr (13 points) and DeAndre Jordan (12 points) were the only New York starters to score at least 10 points.
Sacramento Kings 118-120 Denver Nuggets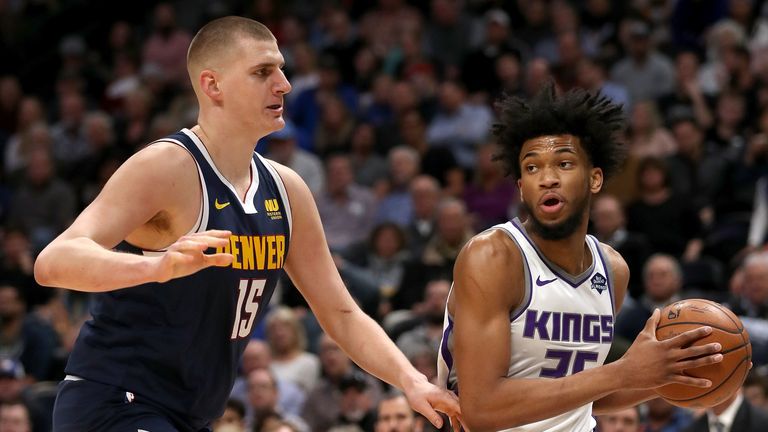 Nikola Jokic had 20 points, 18 rebounds and 11 assists, and he tipped in his own miss with 0.3 seconds left to give the host Denver Nuggets a 120-118 win over the Sacramento Kings.
Paul Millsap finished with 25 points and 13 rebounds and Isaiah Thomas scored eight points in 13 minutes during his Denver debut. The Nuggets won despite coach Michael Malone and guard Malik Beasley being ejected. Beasley finished with 21 points before getting tossed.
Buddy Hield had 25 points and Harrison Barnes finished with 19 points and 11 rebounds for the Kings.
The game was tight throughout the fourth quarter, but Denver appeared to be in control when Jokic made it 118-112 by sinking two free throws with 1:10 left.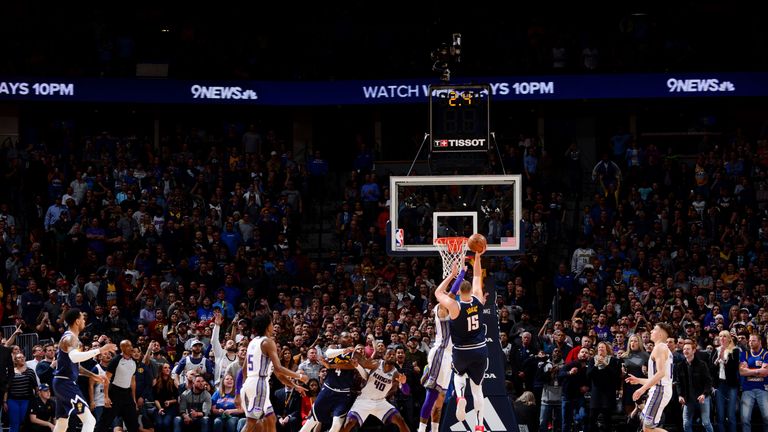 The Kings then scored six consecutive points, the last two on Hield's lay-up with 15.1 seconds left.
After a timeout, the Nuggets got the ball to Jokic, whose lay-up was off before he tapped in the miss. Hield's three-point attempt at the buzzer bounced off the rim.
Brooklyn Nets 148-139 Cleveland Cavaliers (3OT)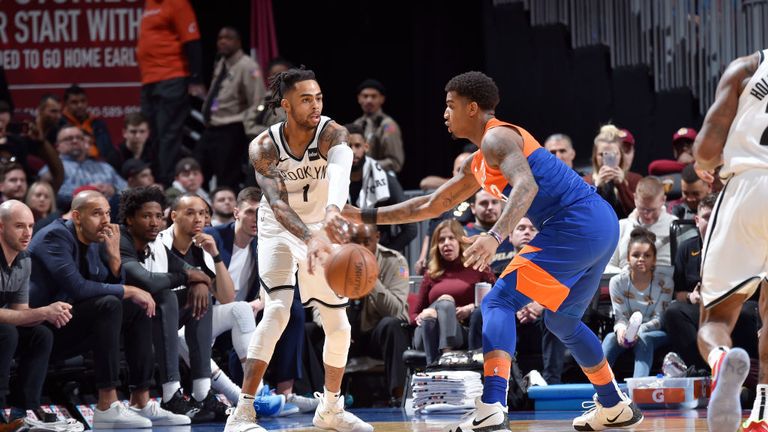 D'Angelo Russell took over in the third overtime, scoring 14 of his 36 points, as the short-handed Brooklyn Nets outlasted the host Cleveland Cavaliers for a wild 148-139 victory.
Russell began the game by missing 10 of his first 11 shots, but he was 6-of-6 in the third overtime and finished 13-of-30 from the floor.
After the Nets forced a third overtime on a buzzer-beating three-pointer by DeMarre Carroll, Russell made a handful of plays to help the Nets snap a four-game road losing streak in their last game before the All-Star break.
Russell put the Nets ahead with a 16-foot pullup jumper eight seconds into the third OT. After Jordan Clarkson's three-pointer gave Cleveland a 131-130 edge with 4:25 remaining, Russell hit a floater to put the Nets up for good with 4:14 left.
Russell then buried a three-pointer, two more pull-up jumpers and two free throws as the Nets extended the lead to 141-134 with 76 seconds remaining. After Clarkson hit a three-pointer to slice the deficit to four points, Russell hit his second triple of the period to make it 144-137 with 43.5 seconds remaining.
Joe Harris added 25 for the Nets, Carroll added 18 points and Rondae Hollis-Jefferson contributed 17 for Brooklyn.
Clarkson led all scorers with a career-high 42 points. Collin Sexton added 24 and Marquese Chriss had a season-high 23 for the Cavaliers, who rested Kevin Love.
Washington Wizards 120-129 Toronto Raptors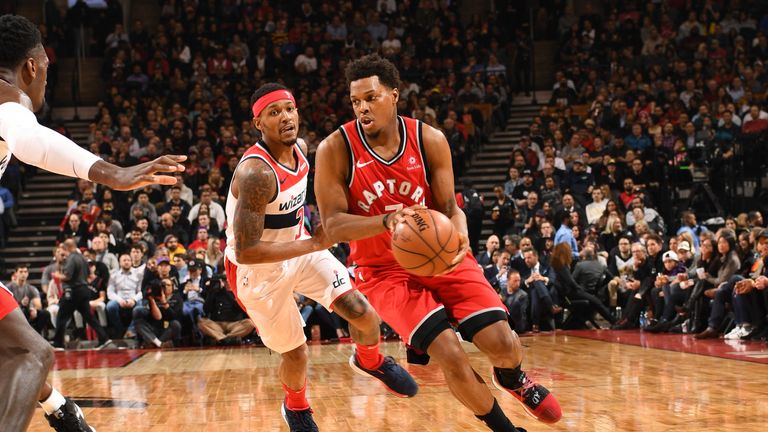 Pascal Siakam scored 19 of his career-best 44 points in the third quarter and grabbed 10 rebounds as the Toronto Raptors defeated the visiting Washington Wizards 129-120.
The Raptors trailed by as many as 12 points in the third quarter, but scored 44 points in the quarter to take a 10-point lead entering the fourth.
OG Anunoby had 10 points in the third quarter and finished with a career-best 22 points for the Raptors, who were without Kawhi Leonard because of a sore left knee.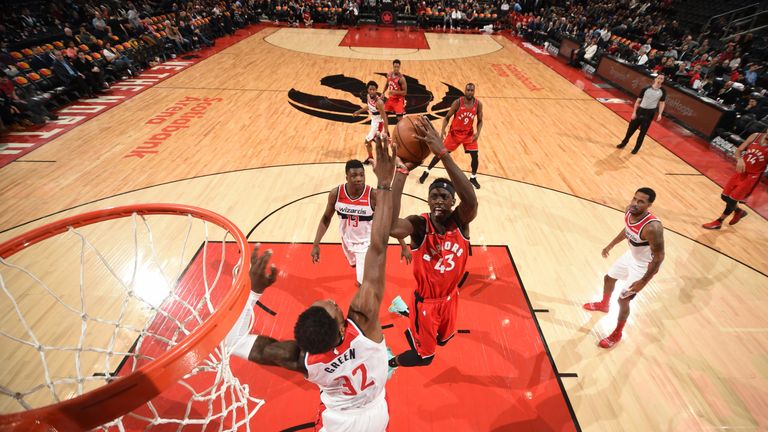 Kyle Lowry had 14 points and 13 assists, Serge Ibaka added 10 points and 13 rebounds, Norman Powell had 11 points and Danny Green 10 as Toronto entered the All-Star break with a six-game winning streak.
Jeremy Lin had eight points, five rebounds and five assists in his Raptors debut.
Bradley Beal led Washington with 28 points and 11 assists, Jeff Green added 23 points, Jabari Parker had 22 points and nine rebounds, Trevor Ariza scored 19, Thomas Bryant had 13 points and Bobby Portis 12.
Phoenix Suns 107-134 Los Angeles Clippers
Lou Williams scored 17 of his game-high 30 points in the first half as the Los Angeles Clippers built a big lead on the visiting Phoenix Suns and coasted to a 134-107 victory.
The win was the Clippers' 12th straight over the Suns dating back to April 2016.
The game was one-sided almost from the opening tip, with the Clippers going up by 12 in the first quarter and 17 in the second en route to a 67-51 lead at the break behind Williams' big first half.
The Suns trailed by 14 early in the third quarter before the Clippers broke it wide open, getting three consecutive three-pointers from Danilo Gallinari in a 13-0 flurry that built an 82-55 lead.
Williams' 30-point game was his sixth of the season. He connected on 12 of his 16 shots and completed his sixth double-double of the season with 10 assists.
Gallinari had 20 points and Montrezl Harrell 19 for the Clippers, who have alternated losses and wins in their last eight games.
Kelly Oubre Jr poured in a season-high 28 points for the Suns. Deandre Ayton collected a game-high eight rebounds to complement 20 points for Los Angeles, while Jamal Crawford added 17 points and Devin Booker 10.
Memphis Grizzlies 110-122 Chicago Bulls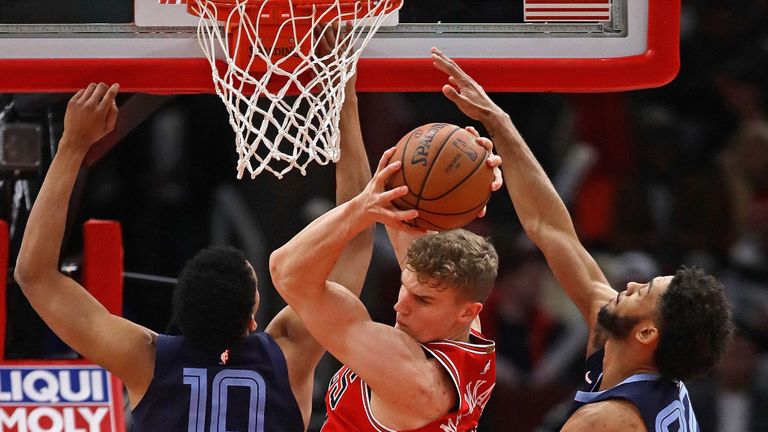 Otto Porter Jr scored a career-high 37 points on 16-for-20 shooting as the Chicago Bulls pulled away for a 122-110 win over the visiting Memphis Grizzlies.
Robin Lopez contributed a season-high 25 points on 10-for-15 shooting for the Bulls, who won for only the fourth time in their past 22 games. Lauri Markkanen finished with 21 points and 10 rebounds for his eighth double-double in the past nine games.
Memphis lost for the second consecutive game after falling short by one point to the San Antonio Spurs on Tuesday night. Veteran guard Avery Bradley led the Grizzlies in scoring for a second consecutive contest as he finished with 15 points on 7-for-12 shooting.
Five other Grizzlies players scored 12 points apiece, including Jonas Valanciunas, CJ Miles, Jaren Jackson Jr, Mike Conley and Delon Wright.
Grizzlies reserve center Joakim Noah drew a standing ovation from Bulls fans when he checked into the game late in the first quarter. Noah, who played 572 games with Chicago from 2007-16, finished with eight points in 20 minutes.
Miami Heat 112-101 Dallas Mavericks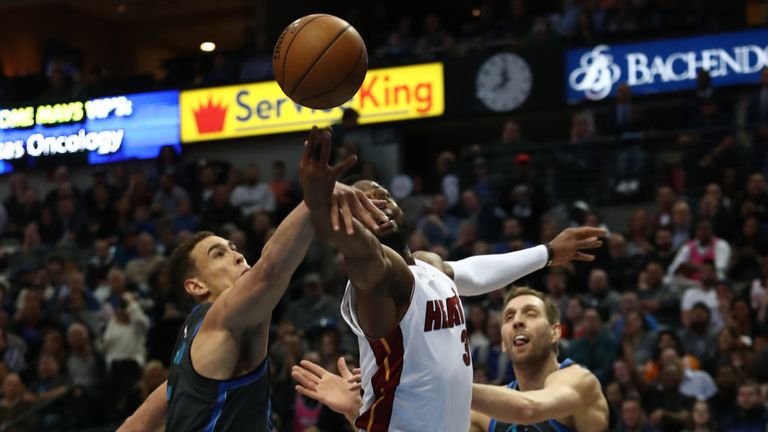 Dwyane Wade played his final game at longtime nemesis Dallas and made it a memorable one with a game-high 22 points as the Miami Heat rode a dominant third quarter to a 112-101 victory over the Mavericks.
Wade, 37, led the Heat past the Mavs in the 2006 NBA Finals, a series Dallas fans still believe was greased for Wade by whistle-happy referees. Five years later, Dallas and Dirk Nowitzki repaid Wade by winning the 2011 Finals in six games on Miami's home floor.
After the Wednesday game, Nowitzki, who is also nearing the end of his career, exchanged jerseys with Wade. They will see each other again this weekend in Charlotte as honorary All-Stars, and then one more time on March 28 when Dallas visits Miami.
Wade hit eight of his first 10 shots and scored 14 points in the first half in just 11 minutes.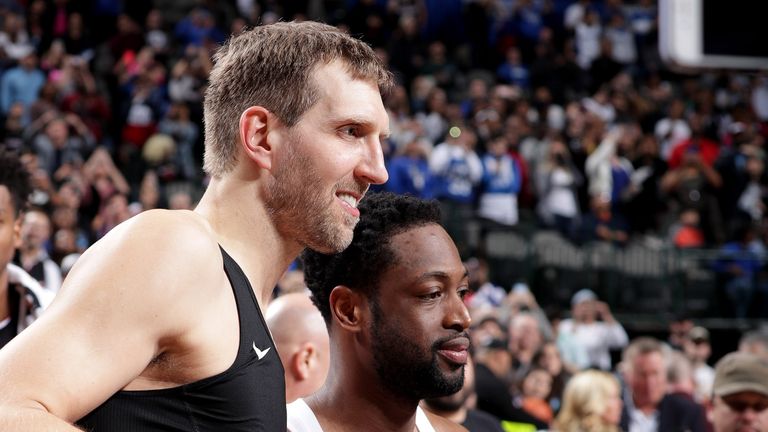 Nowitzki, 40, who has yet to officially announce that this, his 21st season, will be his last, finished the night with 12 points in 16 minutes.
Dallas' rookie sensation, Luka Doncic, struggled with his shot, missing 12 of 17 attempts. He still finished just shy of a triple-double with 18 points, nine assists and a season-high-tying 12 rebounds.
Miami, with seven players scoring in double figures, snapped a three-game skid in the finale of a five-game road trip. Dion Waiters contributed 20 points, Josh Richardson had 14, James Johnson finished with 12, Justise Winslow had 11, and Bam Adebayo and Kelly Olynyk each had 10.
Want to watch the NBA but don't have Sky Sports? Get the Sky Sports Action and Arena pack, click here.